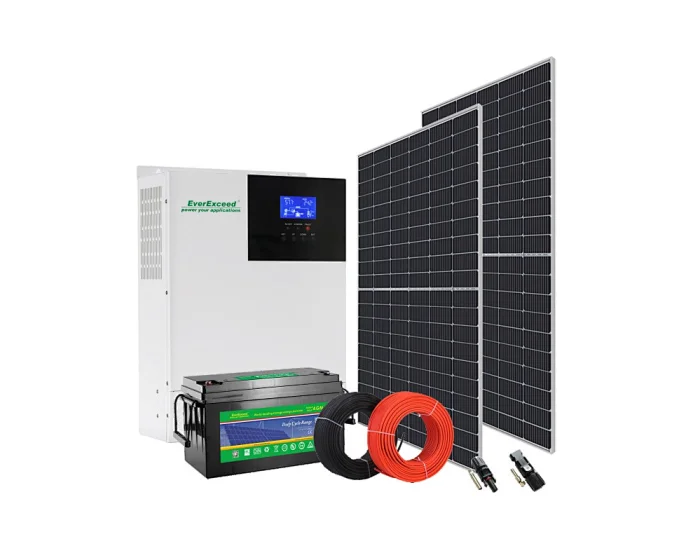 Système solaire hybride avec onduleur (série VPS)
The system is mainly composed of solar panel, hybrid inverter (VPS series) in controller, free-maintenance battery. In daytime, when there is sunshine, the solar panel can convert the solar energy to electric energy and store it in the battery. At night or rainy or cloud condition, the battery shall supply power for load.
Advantage of the solar panel:

Using 182mm*182mm size high-efficiency monocrystalline silicon cell production, the module has excellent performance in space utilization and efficiency;
Efficiency≥20.79%;
Ensure the positive tolerance of module +5W, module power ≥450W;
Low open circuit voltage.

Advantage of the hybrid inverter:

 Built-in controller, no need to configure the controller; Remote operation via WiFi module;
 Various operating modes are available.

Advantage of the battery:

Valve regulated lead acid battery (VRLA);
High-Compression Absorbed Glass Mat technology (AGM) for greater than 99% recombination efficiency;
Thick positive plate design and high Tin alloy~12 years design life @20℃(68℉);
Heavy duty insert copper terminals for ease of assembly ,reduced maintenance and increased safety;
Standard: Reinforced ABS (UL 94HB) container and cover.

Advantage of the solar cable and accessories:

Adopt DC high voltage circuit breaker, DC withstand voltage 1500V, high reliability.

Advantage of the solar panel mounting bracket:

The type of mounting bracket can be adjusted according to the installation environment;
The bracket material is made of Q235 hot-dip galvanized steel, which is corrosion-resistant.


Technical specifications
Components
ESV-3kW
ESV-5kW
450W Mono Solar Panel
6 Piece
10 Piece
Hybrid Inverter
3kW
5kW
12V 200Ah Lead-acid Battery
4 Piece
8 Piece
PV Cable 4mm2
30 Meters
30 Meters
MC4 Connector
2 Pair
2 Pair
Mounting System
Ground or Roof(Customized Optional)